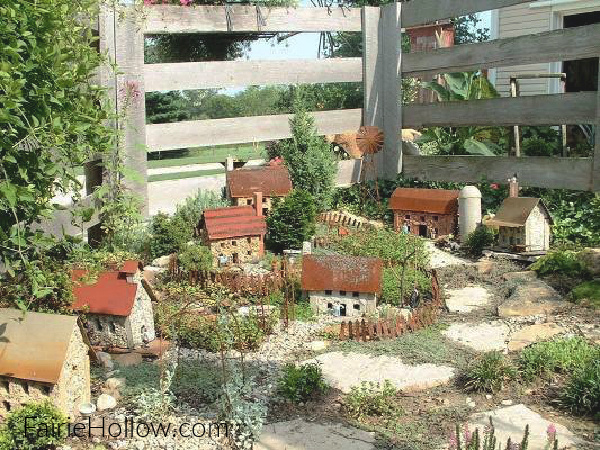 How to make a Fairy Garden with Stone Houses
There are so many different ways of making a Fairy Garden. Each garden is as individual as its owner. This Fairy Garden is one of my favorites because each little house is handmade out of cement.
Diana, the owner of this fairy garden, has shared her techniques for making these charming little rustic fairy houses.
She used templates to form the walls of the fairy houses and pressed rocks into the wet cement which gave it a rough texture. She doesn't say exactly what mixture she used but Hypertufa could be used for this project and be lighter in weight. And, like cement, once it has cured it is safe to leave out year round.
Making these little houses and all the accessories you want for a fairy garden can be addictive because its easy and fun! There are ALOT of ideas for hypertufa on Youtube and Pinterest so go crazy!
The most common recipe for it is:
3 parts Portland Cement
4 parts Peat Moss
4 parts Perlite or Vermiculite
A bonding agent that you find in the cement area of your local Big Box store is suggested and of course water.  The water should be added slowly until it looks like brownie mix or cottage cheese… Anyway, no water should squeeze out when you form it into a ball when checking for the right consistency. Oh, and wear gloves and a mask. You don't want to breathe in the powder when pouring it out of the bag and your hands will not be fun to wash off :/
Again, find a video to watch on how to do it.  I liked this one…because she is really clear about how to mix it and  This video shows how to make a fairy house using pink insulation foam as a mold which is a little different way than Diana does it but seems to work well.
Below are the molds Diana uses for her houses.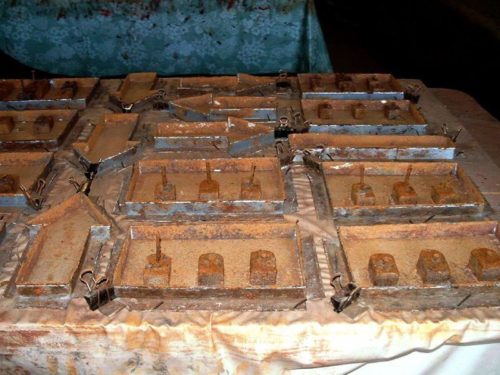 These templates were made by Diana's son out of metal. But wooden forms could also be made and lined with plastic.  I like how the little square parts for the windows and door can be moved around to make each house look different. If you know someone handy with metal and a torch metal would probably be easier to unmold (is that a word?)  Also, she used rusty tin for her roofs which adds some color.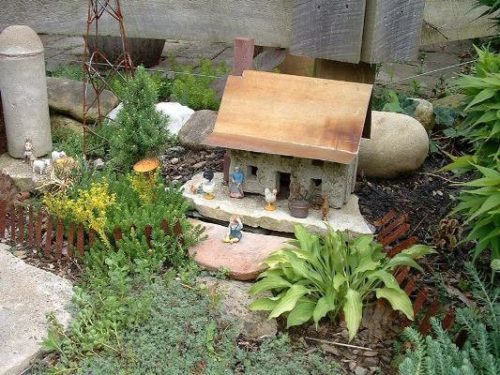 She points out that we need to make sure our houses are made to scale and look right with the fairy people, chairs and all the accessories. This is something you should plan when making molds for your own houses.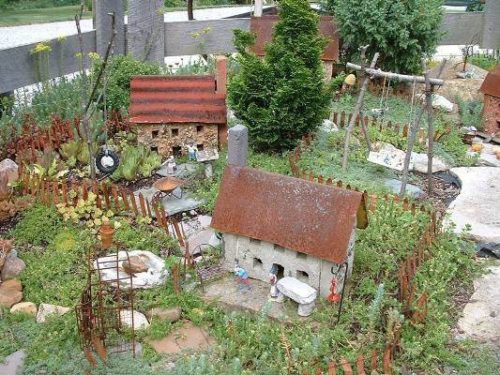 It is also important that when planning your Fairy Garden to make mounds of dirt for hills and dig out  little valleys to add interest and different levels. Then come the plants.  Look how the plants complement the look of the stone in the garden above.  Sedums and low growing plants are best. Then add some taller plants for interest. Here is a list of miniature plants that you can try. Plants add life and texture and as they grow and change so does your Fairy Garden.
Some stone fairy houses are definitely going into my fairy garden this year.  Now go get your hands in some cement and sand and make something amazing!