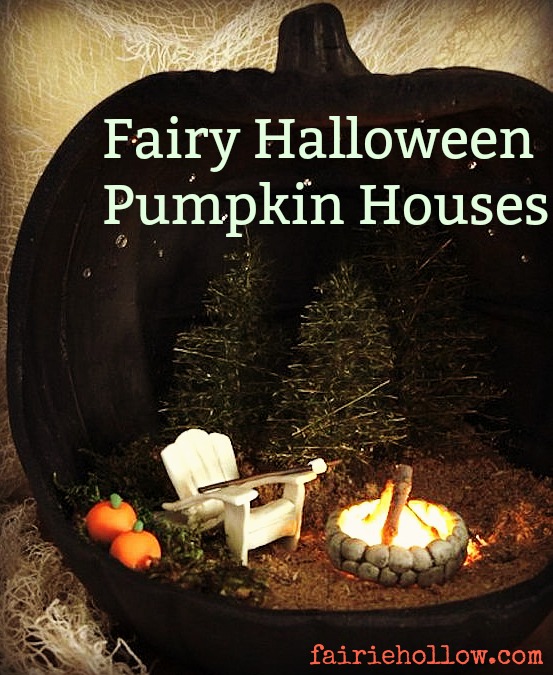 Make your own Fairy Pumpkin House for Fall and Halloween
It's officially Fall! So let's get ready to decorate our gardens with Fairy Pumpkin houses for Halloween! Since the weather is getting cooler and the evenings are getting shorter now is a great time to hunt for a real pumpkin to carve for this project or a Funkin Pumpkin from the craft or Dollar Store. This pumpkin above has been painted black and hollowed out.
Every year our family has a pumpkin carving contest. It is one of our highlights! Last year our team turned a little white pumpkin into a fairy carriage that lit up inside. It was really cute and the kids loved it.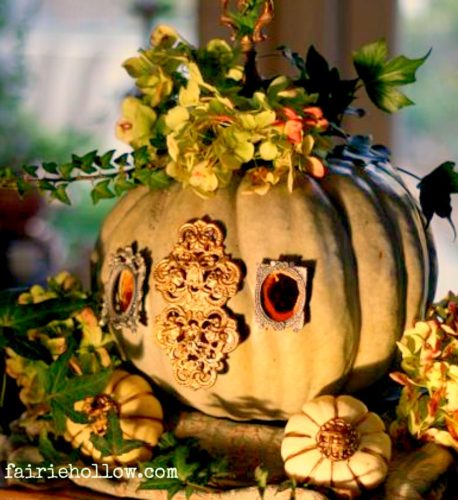 We take this contest very seriously and the pumpkins we carve are really amazing! The Pumpkin Carriage on your left is very similar to what we made. I also made a Fairy Carriage from metal so if you want a fairy carriage that is more permanent you can check out this post from last year.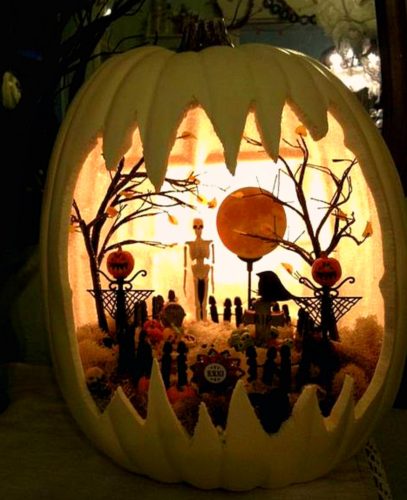 Adding something kids will want to see at your house for Halloween can be so much fun. It can be a Fall Pumpkin Garden with lights and Pumpkin Houses. They are really easy to make and fun to decorate. You can buy the Funkins in orange or white and I have even seen black and turquoise ones. You can mix real pumpkins with them too. There are plenty of little lights that you can also add to the garden and some that even blink.
Imagine a little area in front that the neighborhood children can see when they come Trick or Treating!
Inspire yourself with a new idea. These pumpkins are all different but you can see how they are similar to create.
Michaels has some really cute miniatures for Halloween that you can start collecting and adding to each year.
You can find the little pumpkins to sit on the grass and little ghosts and fences, and beds. There were little black trees and all the different colored mosses as well.
You will get a flood of ideas!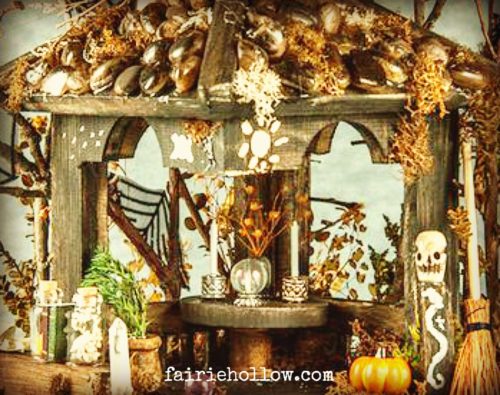 This little Halloween Fairy display at left is in a gazebo. It has miniature pumpkins, a broom, little books in the corner, a table made of a spool, candles and a fortune tellers ball.
So many ideas for the Halloween Fairy garden. The detail is wonderful!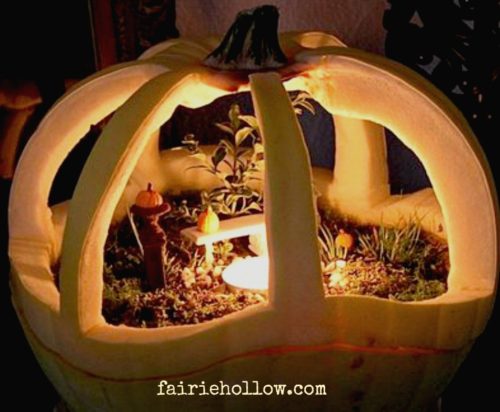 There are also bottle brush trees that you can dye yourself or buy in oranges, black, purples and greens and reds. I found some in the Holiday section at Lowes to dye.
They come in a package in their Christmas section, which sadly, is already up. There are lots of instructions online to help you get started.
This pumpkin on the right is a real pumpkin that has been carved to look like a little outdoor sitting area for fall fairy nights. A little bench close to the fire to stay warm.
A friend of mine taught me how to make a black Halloween tree this year out of dowels and cheap greenery. I will show you how to do that in my next post. They would be fun to add in the background of the Halloween Fairy Garden.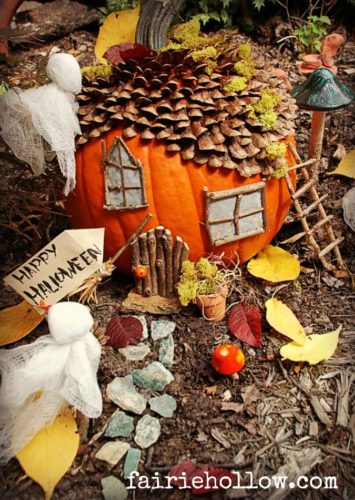 This last fairy house is made with a real pumpkin. The instruction are here. Such a cute little house with pinecones for the roof.
It looks so natural with the rock path and toad stools. The front door is made of twigs along with the ladder and windows.
I hope these ideas give you that creative push to get your fall season started in your fairy garden. It will be some of the most fun you have had in a long time and your neighbors will want to come bring their friends to see it!