Make These Christmas Mushroom Decorations for Gifts and Decking the Halls
Some of the most magical Christmas fairy decorations are the toadstools or mushrooms that hang on trees, garlands or just added to a Christmas fairy vignette. We have assembled a few of the best patterns and tutorials to make these Christmas mushroom decorations to give as gifts or for decking the halls. They are made of spun cotton, linen, scraps of velvet and felt.
Below are Spun cotton mushrooms that are made using cotton balls. The instructions are easy to follow and you will learn a new skill using spun cotton that you can use for other creations.
Below is an amazing mushroom pattern and tutorial to help you create your own toadstool/mushroom Christmas decorations.
Ann Wood is one of those talented people who makes unique creations and then helps the rest of us with her pattern making. She makes mushrooms using scraps of fabrics she finds on her search for vintage fabrics. Not only is her mushroom pattern easy to follow but her blog is a fun read.
Ann Wood can give you wonderful ideas to make a beautiful fabric mushroom out of scraps. You can listen to a podcast about her and she gives you a free pattern to practice with!
These little felt mushrooms are made by using 2 round circles of felt hand stitched together around the outer edge. The bottom circle will need a little hole cut in the center for stuffing the mushroom and for putting the stick inside for the base of the mushroom. Glue in place. The dots on top have been needle felted but you could always cut little circles and glue them in place. Such a cute idea using the branch don't you think?
Lia Griffith has a very good tutorial on making these very cute mushrooms/toadstools. These are made from felt and are sweet and simple. You could add glitter or seed beads or give them polka dots. Once you have made one let your creativity soar.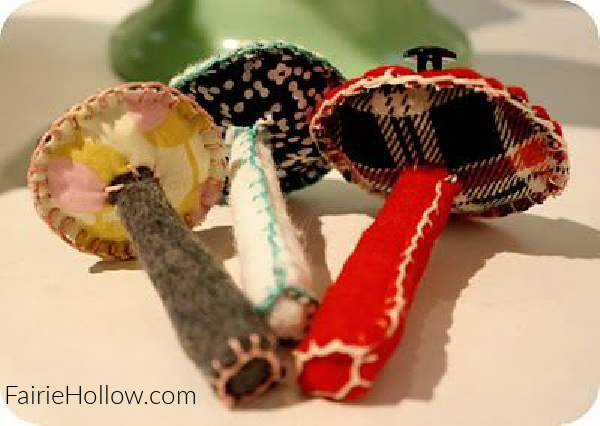 These mushrooms are made by Chase from Handmade with Love. She doesn't have a pattern but uses things she finds around the house that work great. She has a good eye for combining colors and embellishing.
These Linen Mushrooms above are just one more way to create unique toadstools. They are more rustic which we love and they are all hand stitched. You can hand stitch them while watching your favorite Christmas movie.
We hope you are inspired to pick up a pattern and some linen, felt or cotton balls and make these mushroom/toadstools to give as gifts or to add to your own collection. Happy Holidays!