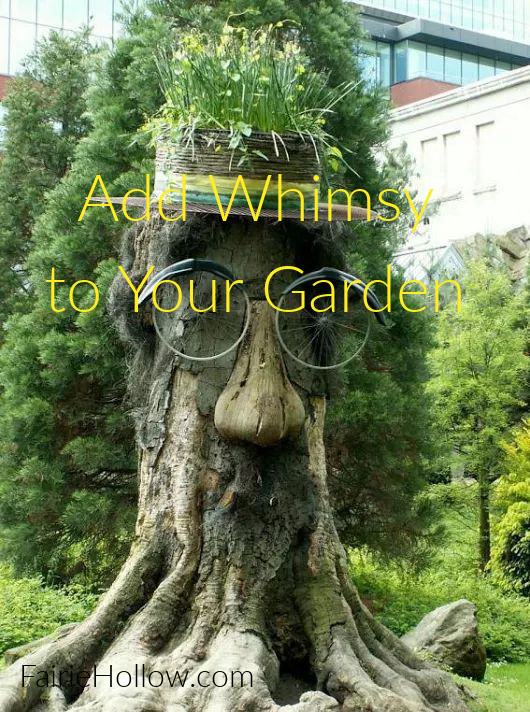 Add Whimsy to your Garden
The most interesting and wonderful gardens have that bit of whimsy. A piece of art, a statue, a sign or arches and paths leading to seating tucked away waiting to be discovered.
That tree above could have been an eyesore but instead it is a playful face with glasses and a planted hat!
Tales from the Traveling Art Teacher shows how her students got very creative with their rocks and gives a list of the paint they used. This project would instantly add whimsy to any garden! You can also try painting a house on rocks. Placed around your garden, these rocks will brighten any space.
Find some sticks or branches and paint them as well. Placed in a bucket or lined up in your garden with maybe some dreams and wishes written on them and see what happens!
Do you have some old posts laying around or pieces of lumber? Try your hand at painting designs on them. They can be any size or shape. Make one and let it be a colorful totem pole or line them up!
Making borders or art out of branches makes such a Beatrix Potter feeling in a garden. Willow is the most supple but these projects can be done with any fresh or soaked branches. This garden just needs a little blue Peter Rabbit coat to hang on the gate!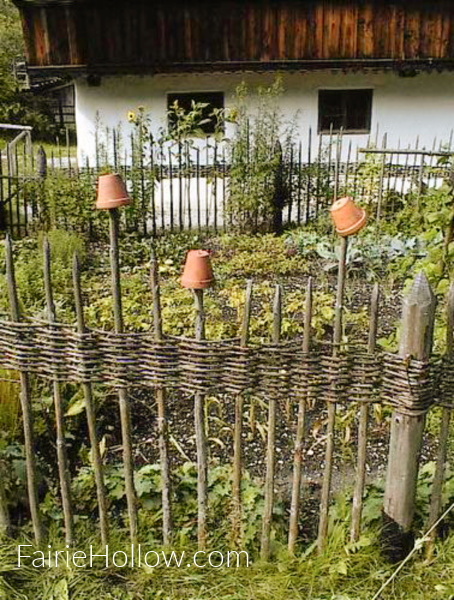 Weaving branches into a wattle fencing design makes wonderful use of Hickory and other branches that get trimmed in the Spring. The weaving technique of the branches has been repeated for hundreds of years.
Isn't it charming? Couldn't you see it around a little Hobbit village tucked in a corner of your garden?
The picture below is an example of a beautiful place to sit and listen to the birds in the morning. A woven chair like this would take some time and effort to make, but what a fantastic feature it would be!
Another way to add whimsy to your garden is with nature weavings. If you've never tried it, it is easy to set up and weave and will help you look at flowers, stems, twigs and grasses in a new way.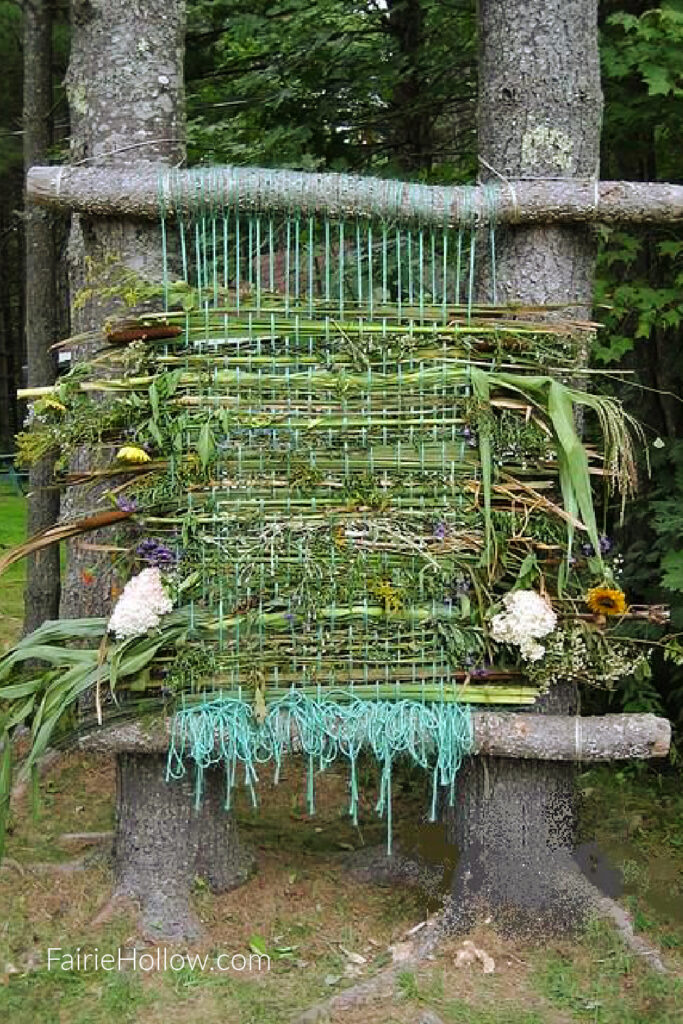 Add whimsy to your garden with an Insect or Bee Hotel. If you haven't seen one before prepare to be inspired to make your own. These hotels encourage mason bees, and other insects to stick around and keep your gardens insects in balance. You can see how grouping lots of one type of natural element adds interest and beauty. The 'hotels' can be as simple or as elaborate as you want.
Are you inspired to add Whimsy to your garden using nature? This is a great time to start collecting the branches, pinecones, logs, flowers, grasses and anything else you find on your walks in your yard or park or wooded areas. Most of all have fun spending time with your family and friends. Give your garden and yard a little whimsy. It will make you smile!