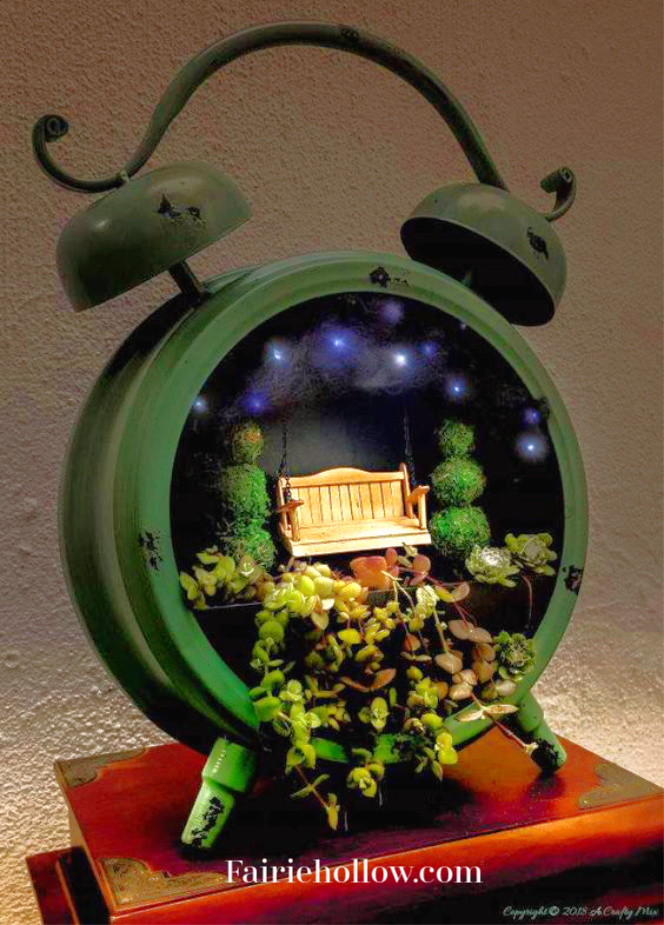 Make a Fairy Clock House for your Fairy Garden with Found Objects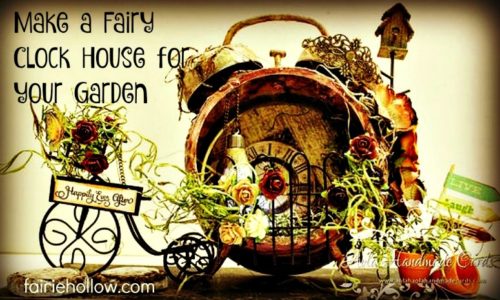 There are so many wonderful Fairy Garden projects that I have a hard time choosing which projects I'm going to do next. But when I ran across these Fairy Clock Houses I decided this would be it.
First of all, I have a clock just like the ones in the pictures that I got at Walmart a few years ago…cheap cheap…so I don't mind taking it apart. And second, several of the houses are made using paper from Graphic 45. Check them out they have wonderful unique papers.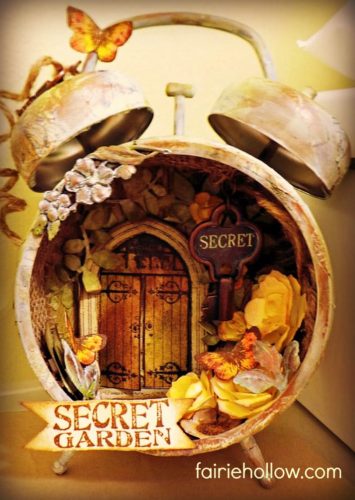 This picture above is paper from Graphic 45 called Secret Garden.  You can go to the Graphic 45 site and get a lot of ideas!
Once you have found your paper and trinkets, get some Modge Podge and decopauge  your paper to the clock.  Basically you are going to use some  printer paper to make a pattern for the round part of the clock and then use it to cut out the paper you plan on using and Modge Podge it in place. Then make a pattern for the outer rim of the clock and cut the paper you want to use from that little pattern. Don't over think it just dive in and do it! That's the best way to learn.
So while I'm going through my own stash of papers (from Graphic 45) and my boxes of miniature treasures and found objects to use enjoy these great little Fairy Clock House ideas to try for yourself!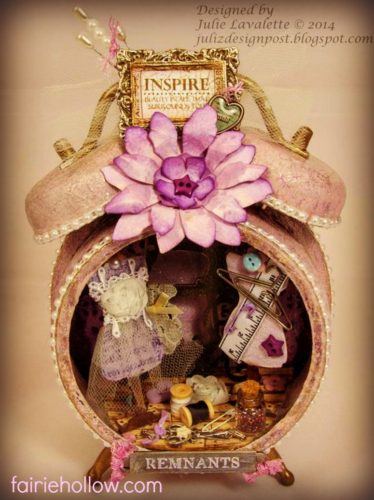 In the picture above the clock has been painted pink and rubbed with a gold paint to give it depth.
The handle is gold and a little frame was glued to the top along with some dressmakers hat pins and tulle ribbon.
It looks like a little fairy dressmaker lives here.
Two dress forms, one with a dress and one that is embellished with tape and some buttons.
The clock is outlined with a pearl bead trim and bits and pieces of fabrics and miniature threads are on the floor waiting to be used.
The sign on the bottom sums up the true joys of a dressmaker and seamstress…aahh Remnants!
What Fairy Seamstress would not love this little Clock House.
The Fairy Clock House below is a great example of grunge meets romantic. Don't you love the way the flowers and the pocket watch work with the texture that has been put on the clock? Then adding chains and a birdcage to finish it off. Very nice little house.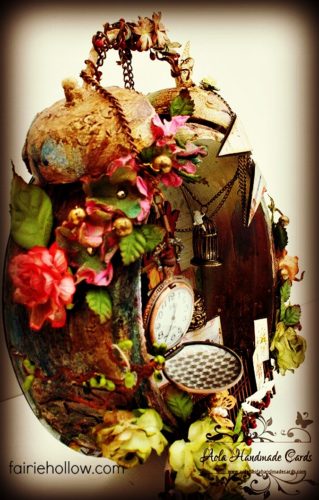 Well I have gathered all my things to make my own Fairy Clock House hope you enjoyed this new idea!