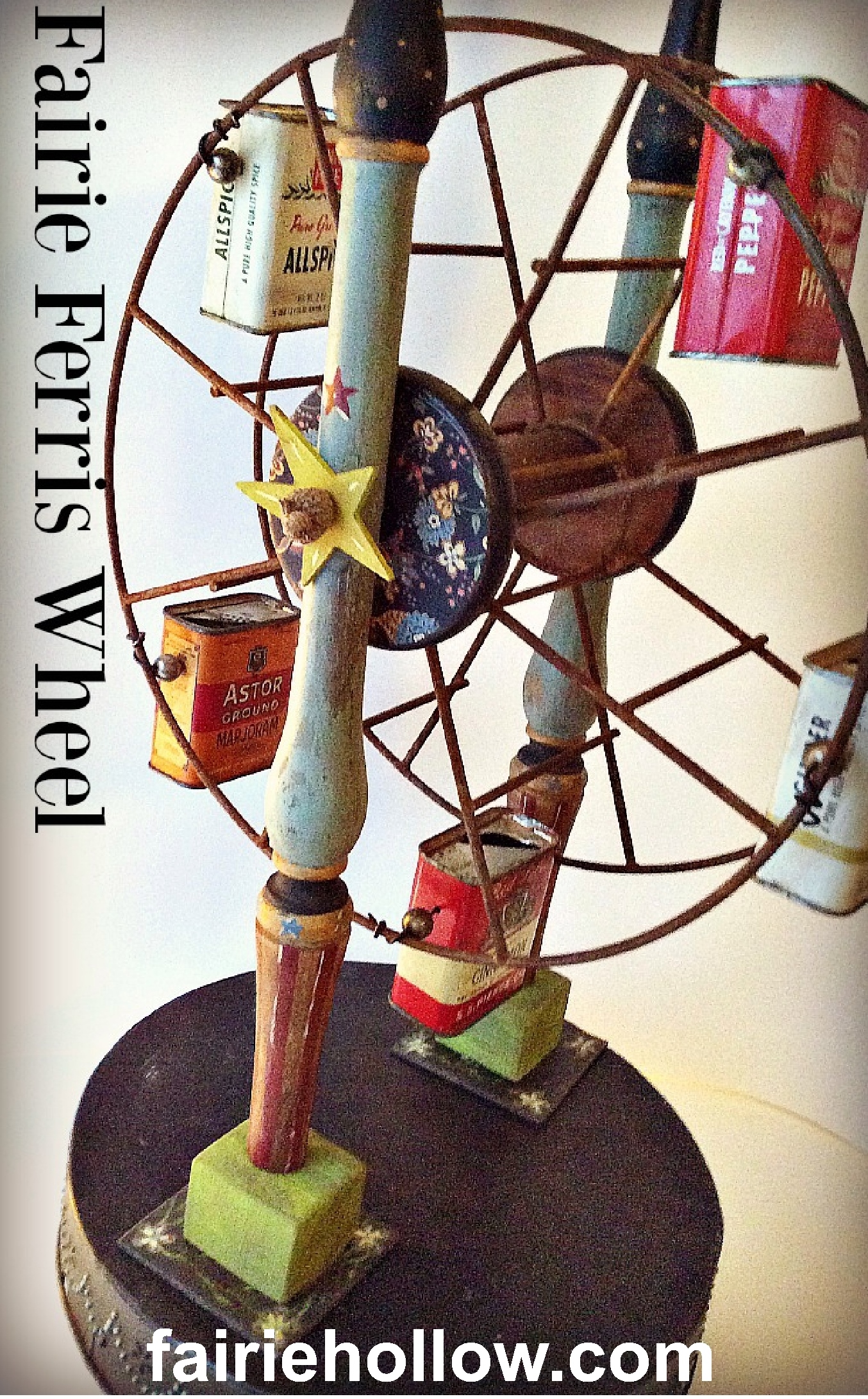 Fairie Ferris Wheel For The Garden
Just in time for the fairiefest is this ferris wheel made from a collection of vintage spice cans.
The ferris wheel itself is a wire electrical spool found at a little store when I was traveling. Some of the best things I have found have been sitting in a corner of a store or in the yard where no one looks.
I drilled holes through each can and wired them to the wheel.
The base is a round metal tin.  I simply turned it upside down and it became a sturdy base to attach the spindles to.
The spindles are from an old chair. Remember, anything that looks interesting can be used in so many different ways. Painting the spindles gave them a circus feel.
I took an old yarn spool and cut the end off.  Then slid the yarn spool through the two holes in the wire spool allowing the wire spool to spin.  I glued the end of the yarn spool back on and let it harden overnight.
The spools have a hole drilled through them so I got a little dowel and measured it so I could run it through the spool to attach the spindles on either side. The yellow stars were added last minute for fun. They were drilled the same size as the dowel as were the tops of the spindles so they were nice and tight. I glued the holes and spindles and let it dry. A couple of little acorns hide the end of the dowels.
The last thing was attaching the spindles to the base. I found two little squares of wood and two flat pieces and painted a star on them then drilled a hole up into each spindle and each piece of wood. This helped stabilize the spindles when the screws were screwed under the metal base into the spindles.
And Voila! Fairie Ferris Wheel is ready for the garden! I hope you will try making one yourself!