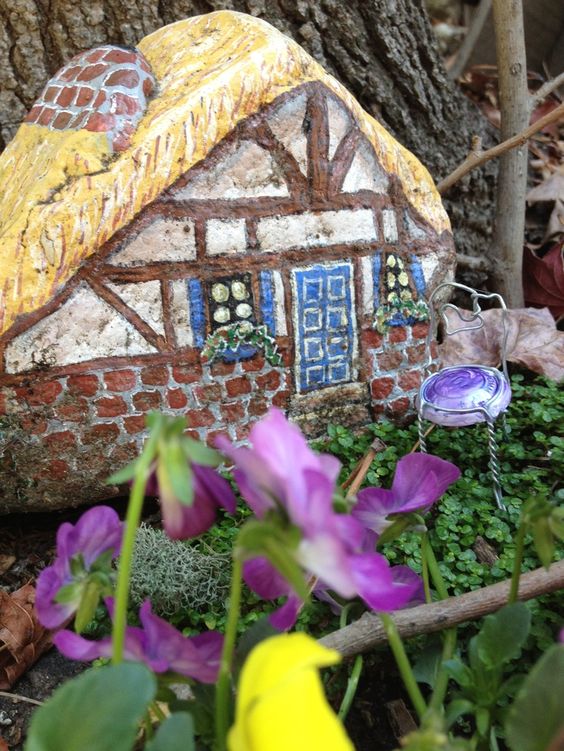 You can Make a Fairy House out of a Rock!
I am thinking I need to start looking for rocks to make my own fairy house.  What an easy fun way to add more whimsy to your garden.
I have been looking at so many different pictures of these rock fairy houses and it doesn't seem to matter what shape or size rock you have. I guess you pick a rock and let it tell you what it wants to be, hehe!
But seriously, I think one of the only things that is important would be that you make sure that you sit the rock down and see how it sits best without tipping over and then see if the surfaces you have are easy enough to paint.  Then you have a good rock house.
I'm going to show you some painted fairy house rocks with different shapes and sizes to get that creative fairy house part of the brain working!
I would start by giving the rock a good scrubbing to remove dirt and any grease or critters, then after it is good and dry maybe in the sun for a bit grab a pencil or pen and start the design.
Start with a door and a window or two. Then add the roof line or little gable over the door. Next, add some grass and flowers along the bottom. Don't over think it!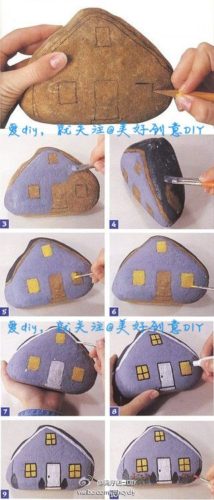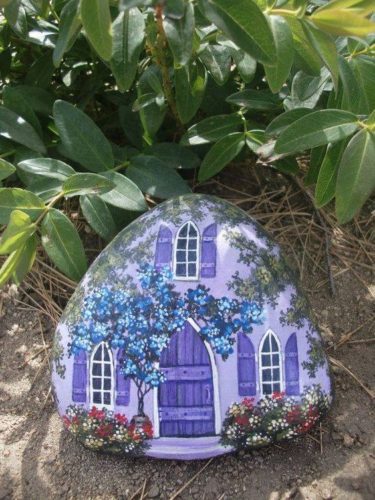 Look at this little purple fairy house. It is a roundish rock and the artist has made it look like a cottage with windows and a flowering tree.
This artist may be Greek…sorry I don't know what the language is on her site but she has done really beautiful little fairy house. See her other houses here.
Get some craft paint. There are craft paints now that you can get that are made for pots or for outside use if you would like. They cost a little more and the colors are limited. But hey this isn't a Picasso so get a few basic colors. If you decide to use the regular craft acrylic paint you will want to seal it with a good urethane to withstand sun and rain.
What ever you decide to choose have fun with it. Remember you can always paint over it until you get it right.
This red roof is quirky and fun with a bike and container of flowers out front. Its also a good size.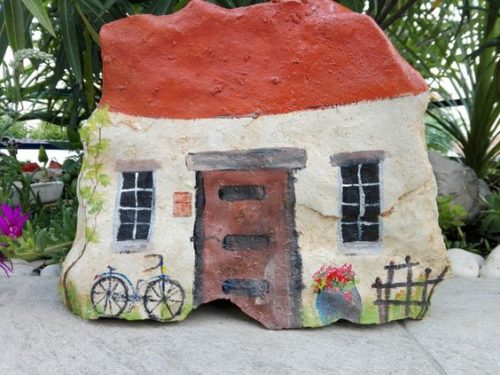 This rock also was painted by the same artist with a red roof and stairs in the front. Cute little dog house and dog waiting for its fairy owner to come home!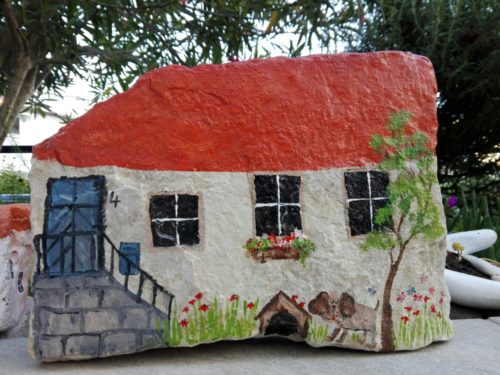 Below is a village on the beach. These fairy houses look simple to paint and shows that when you put them all together the result is fun! Well I'm out the door. Going rock hunting!