There is an artist in France that is making paper mache Fairy houses and Carriages that you must see. Her name is Laetitia Mieral.  She is a darling girl that calls herself a 'paper magician', and she truly is a magician with paper!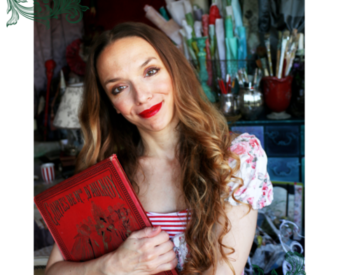 She uses different techniques in paper mache that I have never seen before.  Laetitia works from her home in her studio in a little village in France that is equally as enchanting as her work.
You can see that she surrounds herself with whimsical decor. I know how important this is when you are creating.
Having inspiration in the music you listen to as well as the pictures on your walls helps to create a certain mood that helps take you to that magical place where all great ideas come from.
She goes to bookstores near her home that specialize in older and out of print books.  She mentioned recently how sad it is that these little bookstores are closing because of the lack of interest by most people.
She picked up some wonderful little books  that she uses for research to find new and different fairy tales for her pieces. Her style is very Victorian and feminine with Baroque patterns and her characters are enchanting. Her website is here.
I am planning on taking a class this Winter from her and am over the moon about learning her techniques to add to my Fairie collection.
Enjoy pictures of her work! She will inspire you…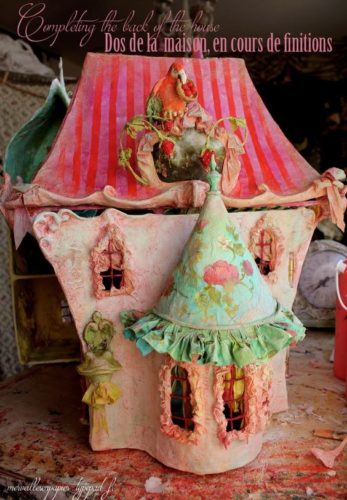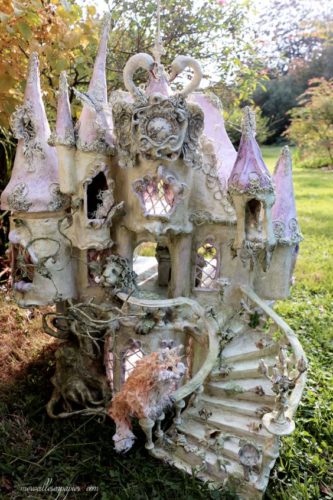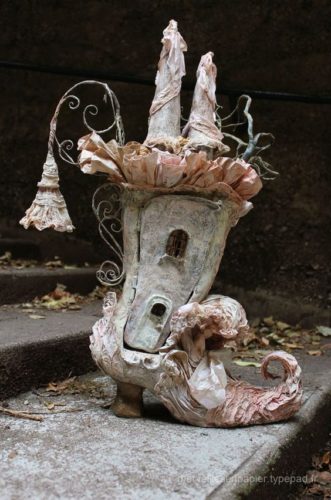 These beautiful little fairy tale houses have so much detail. Laetitia takes such great care to make each piece a true work of art.
The papers are added to look like fabric around the windows and around the top of the shoe.  She hand paints her papers with color washes and baroque style art.
I am planning on taking a class from Laetitia this fall and can't wait to learn from her.
Below is a little carriage. Click here and watch how she makes them.  But let me warn you her videos are so fun to watch and will give you so many ideas!